"Finally! Now You Can Get Healthier, Happier, and More Productive by creating the right habits… even if you've tried before and failed…"
"Willpower does not work. That's why diets don't work. They work for a certain amount of time, and then you fall back into your old habits." says John Brand, a researcher at Cornell University's Food and Brand Lab.
Scientific studies reveal that willpower, determination or discipline isn't enough to change your life. What you need are better habits.
The most successful people, the healthiest people, the happiest people aren't born differently than us, they just have better habits. They are doing more of the right things unconsciously, so that they can call on their willpower for making the important decisions and taking the actions that will make them personally and professionally successful instead of spending it to get the fundamentals right.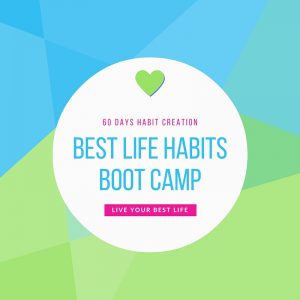 The only thing standing between you and the life you want are your habits. Whether it's the good habits you want but don't have or the bad habits you have but don't want, these habits undermine your efforts to change your behavior,.
A habit is a routine of behavior that is repeated regularly and tends to occur unconsciously, and Duke University estimates that 50% of your day is engaged in habits- in actions that you're not actually thinking about when you're doing them. A habit is the path of least resistance for your brain, and you'll take it every time unless you learn the secrets of changing your habits.
These secrets have helped people from all walks of life turn their good intentions to exercise, eat right, meditate, and more into daily practice.. Now, it's YOUR turn to put them to work!
Dear Friend,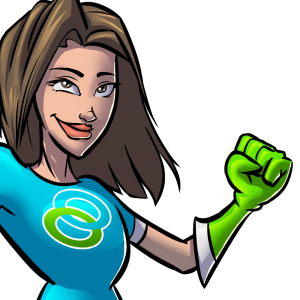 Hi, I'm Sharon Lipinski, and I'm the Habit Super Hero. I know it's tough to change your behavior. I get that.
It's true that thousands of ordinary people will set goals to exercise more, eat better, enjoy their life more every year, save more money, or form other new habits.
A few (a very few) will succeed wildly.
A few more will wallow in the sad mud of mediocrity, neither experiencing the thrill of victory nor the agony of defeat. These will live in "no man's land".
Most will fail. Miserably and repeatedly. When I say "most", I mean 92%. Only 8% of people will keep their New Year's resolutions! (Source: http://www.statisticbrain.com/new-years-resolution-statistics/)
Perhaps you have already experienced one of these failures – after all, the odds are over 92% that you have.
Maybe you know what it's like to go after for your goal with enthusiasm, only to smash into a brick wall time and time again.
You do your very best to exercise every day, but you end up forgetting or making excuses, and in 6 months you're saying, "This time is the time I'm going to make it stick!"
Maybe you have suffered this kind of burning humiliation more than once. Maybe you feel like no matter how hard you try, you're just never going to have enough willpower to make the changes in your life you know you should make.
Does any of this sound familiar?
Don't feel bad – you're not alone, and it's not your fault.
The reason for your frustrated efforts is not a lack of willpower, it's not gullibility, and it's not a moral failing on your part.
The reason why you can't seem to exercise regularly, eat right, or mediate every day is really quite simple, and even easy to fix. The problem is that you have to keep thinking about it, and that can only work for so long, before something happens… You forget, you don't have time, you're too tired, someone needs you, or any one of dozens excuses that come up.
But when something is a habit, it's already done. There's no opportunity for excuses to come up. You don't talk yourself out of brushing your teeth in the morning. You don't have to think about how to order your favorite meal from your favorite fast food restaurant. These actions happen automatically, because they are habits.
Let that soak in. What that means is that if you can make exercising, eating right, meditating, or any other desired behavior a habit, you will do it without even thinking about it.
All You Need Is A Reliable System For Transforming A Conscious Decision To An Unconscious Habit.
It's really that simple. But maybe not obvious.
The truth is though, every great accomplishment involves consistent, repetitive actions to reach that goal. Sometimes that's not obvious to us.
Sometimes we think others were just born with more willpower and mental toughness.
They weren't.
At one time, every person wanting to change their lives started right where you are right now.
There's no reason holding you back from the same kind of success that others enjoy.
And there's even better news: you can enjoy that success faster, better, and easier than those who came before you.
Because right now, there's The Best Life Habits Boot Camp, the first Habit Training Course that helps you finally do all those things you know you should do until they become second nature to you.
If You Can Create A Bad Habit, Then You Can Great A Good Habit!
Habits are agnostic. Whether the action you're taking is good for you or bad for you, they form the same way. Repetition is the mother of habit, and over time, you create neural pathways in your brain that make this action easier. The easier it becomes, the more likely you are to do it— which deepens those neural pathways making it even easier to do. Habits are just reinforced patterns of behavior we've become accustomed, too, and that's why willpower isn't sufficient. Creating new neural pathways takes longer than your willpower and determination can last.
Maybe you feel like you've tried to exercise regularly or eat right before, but it just never works out. So you're probably fairly skeptical about some Online Course being the answer to following through on your promises to yourself.
But this online course is different. That's because it helps you do all the things you know you need to do the only way it actually happens- doing it! Over and over until it becomes a habit.
It takes 21 days to create a habit? No! Studies show it takes on average 66 days to create a habit! The plain truth about how long it takes you to create a habit depends on you, the habit you're trying to create, how much enjoyment you get from the habit, how much support you get, and probably a host of other factors.
That's why this course is a 60 day plan to transform your good intentions into action and then into habit.
There are 3 important components in the Best Life Habits Boot Camp.
Component #1: Weekly Tele-seminars (image)
Weekly tele seminars will go in-depth on the 7 most important habits you need in order to live your best life. Each tele seminar will be jam packed with valuable information and strategies you can apply to your life right away to make a habit of the behaviors that will make you happier, healthier, and more productive.
Physical Health Habits (image)
Habits like exercising, eating right, getting enough sleep, and drinking enough water give you the physical energy you need to tackle anything life throws your way.
The 6 questions you need to answer to diagnose the state of your physical health and identify the area you need to focus on first.
The truth about your mitochondria's role in your physical energy. Plus, how you can take care of your mitochondria and increase how much energy you have on a daily basis.
The scientific study that proves how you think about your health changes your actual health, and why being physically active is more important than exercise.
The only 3 healthy eating rules you need to follow.
The Nutritional Gate Keeper accounts for 72% of all of the family's food decisions. How to empower this person to improve the family's nutrition.
The 3 factors that influence your weight. Hint: They don't include diet and exercise.
15 different ways you can exercise at home with no equipment and regardless of your current level of physical fitness. If you can sit in a chair, then you can exercise.
The sneaky ways you increase your chances of eating healthy.
Mindfulness habits (image)
Mindfulness is noticing each thought, feeling, body sensation, and surrounding environment in the moment as you're experiencing it without judging it as good or bad. Any habit you want to create, task you want to complete, becomes easier as you spend more and more time being mindful.
Mindfulness is exercise for the mind, and it's the single most powerful way to lower your stress, feel calmer, and more peaceful. These 6 questions will help you diagnose the state of your mental health.
The surprising definition of mindfulness and why meditation is just one way to practice mindfulness.
The 3 skills mindfulness develops and the top 10 ways it will change your life.
The best time to meditate is whenever you'll actually do it. How to find a time that is right for you.
Discover 10 different meditation styles and how to figure out which one is right for you.
Caution. Meditating is great for kids, but avoid these 3 pitfalls.
How to handle strong emotions that may surface during meditation.
The best way to be more mindful is to have mindfulness triggers that bring you back to the present. These 3 meditation triggers will help you have better interactions with other people, plus, the one will stop an argument with your spouse in its tracks.
Relationship habits (image)
The quality of our lives is directly related to the quality of our relationships. The right habits create strong, fulfilling relationships.
6 questions that will reveal how strong your relationships are and identify the area you need to focus on first.
Spending a lot of time with your kids is important? No! We'll discuss the studies that reveal that quality of time is the most important and reveal the kind of time that can actually hurt them.
Intimacy happens between people when they can reveal their true feelings, thoughts, fears, and desires. Intimacy flourishes when giving time, emotional support, and physical affection creates an environment of unconditional trust. We'll cover the habits that allow intimacy to flourish with your significant other.
The surprising health benefits of having an active social life and the harmful health effects of social isolation.
Avoid the pitfalls of giving too much of the wrong things to the wrong people with healthy boundaries. Plus, a simple mantra that will help you say, "No!" to Takers.
How to identify if you're an introvert or an extrovert. Plus, 6 specific strategies for introverts that will make it easier and more enjoyable to connect with other people.
Family will always support your healthy changes? No! There are 3 reasons your family may undermine your efforts to change, and 4 strategies for dealing with it.
The surprising truth about surprises and how to use them to strengthen your relationships.
What relationships and a potter's wheel have in common, and how to craft a plan to improve a strained or difficult relationship.
Connecting With Yourself Habits (image)
One of your most important relationships is the one you have with yourself. The right habits increase your self-esteem and nurture your spirituality, so you can have more peace, happiness, and fun.
6 questions that will reveal where you could have a stronger connection with yourself.
The real definition of self-esteem and how to increase it. Hint. It's not about feeling good about yourself or getting compliments.
Your purpose in life is what you do for a living? No! You can be on purpose no matter where you work or what you're doing. Plus, how to craft a life purpose that motivates, inspires, and guides you.
How to change negative self-talk to positive self-talk using mantras.
The strangest secret to change how you feel is to change how you move your body. Increasing your self-confidence can be as simple as changing how you stand.
Desire, pride, and anger are bad for you? No! Discover the lessons inside these emotions and how to use them most effectively.
Better than being a super hero. Use alter egos to bring out your confidence, your sexiness, and your swagger.
The daily and weekly habits that will increase your self-confidence and self-compassion.
Gratitude Habits (image)
Gratitude is a simple affirmation of goodness that acknowledges that the goodness comes from some place outside yourself. A simple "Thank You" is a grateful act but you can also become a grateful person who habitually looks at the world as a source of goodness.
Gratitude is a keystone habit whose good effects cascade through your life improving nearly every area: physical, emotional, spiritual, work, and personal relationships. You name it, gratitude helps.
How gratitude can transform Post Traumatic Stress to Post Traumatic Growth.
The habits of happy people that you can adopt into your own life.
When it's ok not to feel grateful.
How to use a simple pleasure to create feelings of gratefulness.
The scientifically proven benefits of gratitude.
Simplicity Habits (image)
Simplicity makes room in your life for what's important. When your mind, your schedule, and your home are cluttered, spending time and energy on what's most important to you is more difficult to do because it is more difficult to see.
How scarcity of time and money are ruining your chances for happiness and success.
5 questions to discover where your life is most complicated and where you can simplify first.
The strangest secret about "Decision Fatigue". Your brain gets tired of making decisions and how to use routines to get more done.
Why an errand is really an "Act of Love"
The truth about your schedule and why you don't spend more time on what's most important to you. Plus, how to fix it.
Why you should embrace missing out and other productivity habits that will help you get more done in less time.
Take control of your to-do list with templates that will help you figure out where to start and what to do next.
These 3 questions & 3 steps will get you out of overwhelm, fast!
Strategies for getting your children to cooperate with simplifying your lives.
Philanthropy Habits (image)
Philanthropy is where the rubber meets the road. It's where the tongue in your mouth lines up with the tongue in your shoe. If you want to make the world a better place, then you have to DO SOMETHING about it. Philanthropy is you doing something about what you believe so that the world will be a better place.
How to say no to requests for your time or money
A philanthropist is someone who donates a lot of money? No! Philanthropy has nothing to do with how much you donate and entirely to do with HOW you donate. Discover the secrets to being a great philanthropist even if you only donate $1 a month.
Is it better to give time or money? The surprising difference between the two.
7 tips for raising generous children.
How much should you donate? Is 10% enough? too much? This formula will help you figure out how much you should give.
Find the best charities with this 4 Level Charity Eval System. Know you're giving to the right charity that your donation is going to be used in the right way and it's going to make a very big difference.
The single best way to get the real scoop on a charity.
The truth about charity expenses and why you should ignore it when looking for the best charities.
The fastest, safest way to make great donations. How giving circles are changing the face of philanthropy.
Component #2: Q & A
After the education portion of the weekly tele-seminar wraps up, I'll answer any questions you have, so you can get one-on-one advice with strategies for your particular situation and challenges. You get your question answered every time.
Component #3: Daily Interactive Email
Each morning for 60 days, you'll receive an email with a small daily action you can take on your most important habit. Here's what I know to be true. You can do it when you do it. You don't have to believe you can do it. I believe in you. I know what you're capable of, but even if you don't believe in yourself, you can do it. Repetition is the mother of habit, and that's what these daily reminders will do. It will help you do what you need to do until it becomes a habit.
When you Join the Best Life Habits Boot Camp you will discover:
What you must do before you even think about starting your exercising, eating, or meditation habit.
Understand exactly how anyone can create any habit in just 5 steps – it's not as tough as you think (and it's probably different then you think, too)!
The secret to creating new habits without getting overwhelmed.
How to build your willpower by using it less (the usual advice is out of date and doesn't work any more).
These are the same secrets I've used to create my own exercise, eating, and mindfulness habits that have created more health and happiness in my life. And I feel sure these habit creation secrets will work for you!
Here's what other people have said about Best Life Boot Camp:
"So I only have a sec, but I wanted you to know how YOU have transformed my life! I got a Fitbit for Mother's Day. Started wearing it last Friday! Friday and Monday 5,000 steps. Yesterday due to additional encouragement from my boss and fellow WOF (and my personal trainer) Nicole Lovett, I accomplished 7,500 steps -simply by setting a goal! Today's goal – 10,000 steps – and by 10 AM, 2500 steps in! Thank you -thank you -thank you! " Nancy
"I feel much less stressed at the end of my day. It used to be I would be worn down, feeling stressed and a bit grumpy by the end of my day. Now I use the breathing exercise with the app on my phone, which really helps me focus on truly holding that breath in full and then releasing it fully. By the end of my day, I'm still feeling bubbly and ready for a nice walk or time on the elliptical. Do I always make it to the elliptical? No. However, I think I will tackle that habit next and can now plan for it after work! The other benefit has been my sleeping has improved immensely. I am able to sleep through the night several evenings per week, and those I don't, I am able to return to sleep quickly after doing some deep breathing." Jamie
Who Else Wants The Easy Way To Get Healthier, Happier, and More Productive?
Here's exactly what you're getting right now:
7 Teleseminars on the most important habits for a life that's good for you and for others.
Weekly Question & Answer Time for laser coaching on your specific situation
Scientific studies show that using social support in eating and weight loss goals can double your chance for success. 60 Days of Interactive Emails give you the accountability and encouragement you need to stick to your plan.
A pre-assessment so you can diagnose the current state of your physical, mental, and spiritual health and identify what habit you should start with first.
My proven 5-step strategy for creating any habit you want – it's as simple as 123!
The reason why you should never try to change your exercise and eating habits at the same time!
The strange truth about why your family may secretly sabotage your success plus strategies to overcome it!
And that is only the beginning. After you have listened to the Habit Master Class which gives you the blueprint for creating any habit (which you'll receive immediate access to upon enrolling), what once appeared dark and mysterious will suddenly become clear and easy! You'll be a pro at designing your life with the actions and habits that will you allow you to live your best life!
Right about now, if I were you, there would be one question on my mind…
How Much Does It Cost?
You're smart. You've looked around and you know that other self improvement courses that offer this much ongoing interactive support and follow up sell for $1,000 or more.
And I truly believe that by now you can see it would be worth that much to create the right habits that would make it easy for you to be healthy and happy.
In fact, I believe it's worth a multiple of those other products, if only because the only thing standing between you and the life you want are the good habits you want but don't have and the bad habits you have but don't want. When you master your habits, you master your life. This course helps you master your habits.
Think about this…
If the only thing Best Life Habit Boot Camp did was that you automatically got up and exercised like clockwork… that would be worth $1,000, right?
If the only thing Best Life Habit Boot Camp did was to get you to automatically get you to choose fruits and veggies instead of sweets, candy, and bread… that would be worth $1,000, right?
If the only thing Best Life Habit Boot Camp did was to get you to automatically meditate every day, so you could feel calmer and happier… that would be worth $1,000, right?
If the only thing Best Life Habit Boot Camp did was to help you automatically make your spouse feel safe and loved, so you can have the relationship you've always wanted… that would be worth $1,000, right?
If the only thing Best Life Habit Boot Camp did was to make the most powerful productivity habits second nature to you, so you can get more done in less time and spend more time enjoying your family… that would be worth $1,000, right?
The good news is Best Life Habit Boot Camp does every single one of those things, and more!
But I'm not even going to think about asking you to pay $1,000. In fact, it won't even cost you $500.
Because when you take advantage of this special offer right now, your total investment only comes to $247.
The reason why it's this inexpensive is simple: I don't want money to stand between you and your best life. Plus, I know a secret… When you are healthier, happier, and more productive, you have more energy and time to take care of other people and this planet. And there is nothing more important to me than making this world being a better place.
If you're still wavering, and haven't made your decision, what would have to happen for this to be the easiest decision you've made in a long time? First remember this is the very best way to make exercise, eating right, meditating, or any other habit you've been wanting to create… Then let's make the deal even juicier…
When You Act Now and You're Also Getting the Bad Habit Buster Training 100% FREE! Image
This Bad Habit Buster Training will give you the blueprint for breaking the bad habits that you want to get rid of.
A bad habit is made up of 3 parts. You only need to fix one part to transform it to a good habit. Here's how to do it in 4 easy steps.
And… the Sleeping Habits Training 100% FREE! Image
This Sleeping Habits Training will help you fall asleep more quickly, wake less frequently, and feel more refreshed.
Warning! If you're getting less than 7 hours of sleep a night, you're at risk for dozens of health conditions.
Discover the 4 habits you do during the day to get a great night's sleep.
And the 3 habits you do at night to get a great night's sleep.
So when you order Best Life Habits Boot Camp today, you get the Bad Habit Buster Training and the Sleep Habits Training free – so act now!
[Order Link]
100%, Money Back, Satisfaction Guarantee! in a certificate with seal
Don't even make up your mind right now. Just go ahead and order the Best Life Habits Boot Camp today, and try it out. Go through the entire 60 day program. If, for any reason, you are not 100% delighted with the Best Life Habits Boot Camp… – if you don't create the habit you wanted to create … if you don't enjoy greater health, happiness, or productivity… and if you don't agree that you got simple, easy to implement strategies that you can use right now … then simply email me for a rapid, no hassle, no questions asked 100% refund.
I think you'll agree, that's pretty solid offer…
It Is Decision Time
You're standing at the crossroads. Of the two roads before you, the one on the left is the road you've been traveling a lot… it's rough, uphill, rocky, and full of pain and toil.
On the right, the road less traveled. It's smooth, paved, and proven to be the easiest way to creating the habits that will change your life!
Choose the right road. Let's walk that road together. That's right, together. You won't be alone, I'm going to hold your hand every step of the way and walk you through this process. Through our weekly tele seminars and daily, interactive emails, I'm here to give you the support you need to make the changes in your life you know you need to make.
The Best Life Habits Boot Camp launches September 7th. What will you decide to do right now? The same thing you've been doing so you get the same old results, or will you decide to change your results for the better by enrolling in the Best Life Habits Boot Camp?
[Order Link]
Sharon Lipinski, Habit SuperHero
P.S. One year from today, you will certainly "arrive". The real question is… Where? If you wanted to be somewhere different than where you are now, you'll have to do something different than what you're currently doing. Take the first step toward a different future, and join the Boot Camp today.