Book Now!
When you need a speaker who will not only inspire your audience but move them to action, call on Sharon Lipinski.
Contact me to discuss the details of your situation, so we can design a program that meets your needs and budget.
Me, In Action!
Testimonials
Dynamic. Clear. Personal. Insightful. These are just a few of the words audience members have used to describe my presentations.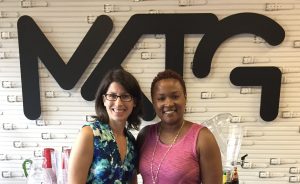 THANK YOU Sharon Lipinski for blessing the Women's Leadership group at my agency yesterday. Your session was the first that drew a record breaking 95% attendance rate — I guess that's what happens when a Super Hero shows up! You coached, guided, informed and inspired us to identify the habits we want and provided us with a very prescriptive strategy to make them part of our everyday lives. Erica Calhoun, Vice President- Account Services at MKTG
"Her insights on Living Generously and being healthy in body, mind, and spirit were so valuable, I felt that I was giving back to the women who support our school. Sharon gave a personal yet universal, practical yet inspirational speech that the Georgia Southern Women loved." Gloria Morgan, Director of Annual Giving, Georgia Southern
"Sharon has made me believe that I can make a difference. I'm putting my money and my time where my heart is, and it feels great!" Christine Kovacs Forster

"Sharon's presentation was perfect! She was clear and concise, easy to listen to and right on target. Sharon delivers her organizational story with a very interesting style and detail that holds the attention of the listener. She can field questions with ease and brevity and makes the audience very comfortable for the duration. She is a very accomplished speaker." Elle Shephard, Women's Group Leader
Topics
Speaker, trainer, and author of the upcoming "365 Ways to Live Generously: Simple Habits for a Life That's Good for You and for Others". Based on the latest scientific research, my presentations are both inspirational and practical. Any presentation can be customized to meet your needs and audience. Just contact me to discuss the details of your situation.
Workplace Habits
If you've ever felt disappointed by the results of that expensive training or frustrated that your employees still haven't changed their behavior or maybe even surprised that you haven't changed your own behavior even though you know better, then you know that education is not enough.
In fact, more education is rarely the answer. What you need is to apply what you already know. Contact me to discuss the workplace habits that will protect your people and your bottom line. Topics could include…
Safety: Put your workplace safety on autopilot. Create the daily habits that save lives.
Health: Motivated, engaged, productive, healthy, and happy employees are your competitive edge. Help your employees actually create habits like exercising, eating fruits and veggies, getting enough sleep, and drinking enough water.
Productivity: You've got a list of things to do a mile long. Make a habit of peak performance strategies, so that you wake up in the morning eager to start your day with the energy and focus you need to rock your responsibilities and still have enough energy to enjoy your friends and family in the evening.
Stress: Feeling grateful, thinking positively, acting confidently are all habits. Adopt the habits of feelings, thoughts, and actions that will help you cope with stress.
Leadership: The most successful leaders unconsciously behave in ways that bring their team together fostering collaboration and achievement.
Complete Generosity
Often when people think about generosity, they think about other people. And yes, being generous is about tipping over your cup to give to others, but being generous also means filling up your own cup. Discover the power of the 7 generosity habits to transform your physical, emotional, and spiritual health so you can create a life that is good for you AND for others.
Thinking Less is the Key to Success
The problem isn't that you don't know what to do. The problem is that you have to think about doing it, and thinking about it only work for so long before you fail to follow through. But when something is a habit, you don't have to think about. You don't talk yourself out of brushing your teeth. You don't forget to have your morning cup of coffee. You can get that same level of unconscious automaticity with any desired behavior. In this interactive workshop, discover the 5 steps to create any habit and create your plan for turning it into reality.
Breaking Bad (Habits)
Everyone has one. Everyone has that bad habit that they know they should stop doing. They want to stop. But can't. Breaking up with bad habits is hard to do, and it's frustrating when we find ourselves doing the old bad habit when we know better. Discover the 5 triggers that launch your bad habit, the 5 Step Process for breaking a bad habit, and 10 strategies you can use to break it. In this interactive presentation, you'll make a plan for freeing yourself from your bad habit once and for all.
Sleeping Habits
The Centers for Disease Control and Prevention says 1 in 3 Americans aren't getting enough sleep and calls insufficient sleep a public health epidemic. If you're not getting at least 7 hours of sleep each night, if you struggle to fall asleep and stay asleep, if you fall asleep when you sit down to watch tv, if you catch up on sleep on the weekend, if your performance or memory are impaired, if you don't have as much energy and enthusiasm during the day as you'd like, then you may be at risk for a wide range of health consequences. Discover the 10 bad habits that are ruining your good night's sleep and the 5 night time sleep habits you need. Plus, a good night's sleep starts with what you do during the day, these 4 day time habits set you up for a great night's sleep.
When You Need an Expert on Donating
Sharon has a unique set of skills and experiences. As the founder of the non-profit Change Gangs: Virtual Giving Circle she's researched hundreds of charities and disbursed tens of thousands of dollars to carefully chosen charities making a big difference in the world. She is the nationwide expert on Giving Circles and has created the largest electronic repository of information documenting the tools, strategies, and accomplishments of some of America's 800 giving circles at www.GivingCirclesHelp.com
Master Charitable Giving
Americans donate more than 350 BILLION dollars ever year. But because we have such busy schedules, donate in small amounts over time, and don't know the traps dishonest charities use, our donations don't make the impact we expect or want. Our hard earned dollars go down the drain.
Every donation, big or small, is a big deal, but it could be producing even bigger results. Our dollars could be having a greater impact. We could be making an even bigger difference in our world.
After this course, you'll know how to evaluate any charity, how to get the biggest bang for your donation, plus identify warning signs and avoid pitfalls. You'll have a Masters degree in making donations that make a difference.
This is one of those special programs you will want to share with your favorite audiences and invite potential new members to attend. Everyone wants to give, but few have the experience, knowledge, and insight you will learn from the Generosity Expert & Donation Defender, Sharon Lipinski.
Book Today!
Contact me to discuss your needs and design a program that is right for you.