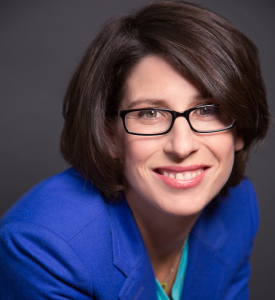 Sharon Lipinski (la-pin-skee)
Donation Defender and Generosity Expert
970-581-7681
Check out my:
TV Appearances
Radio Shows & Podcasts
Print Media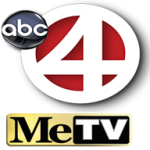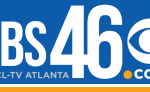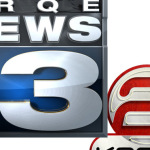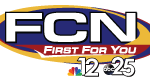 Need a Guest?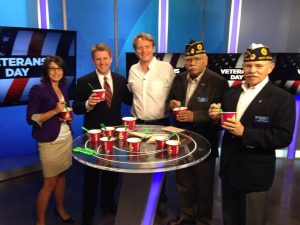 Sharon has appeared on live television in Chicago, Atlanta, Orlando, Jacksonville, Richmond, Denver, Myrtle Beach, Charleston, and Albuquerque. Plus, she speaks regularly to radio audiences throughout the country.
She loves to engage people on television and radio and print with passionate, interesting, and sometimes surprising discussions. So, if you need a guest, reach out to her today. Your audience will be informed and entertained!
Topics range from creating healthy habits like exercising, eating better, and meditating to making an impact on great causes with powerful philanthropy. Reach out to create a custom show that will help your audience get healthier, happier, and make a bigger difference.
Habit Topics include…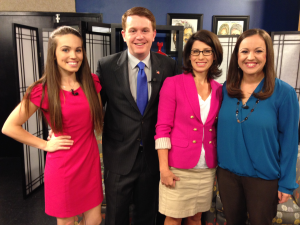 Harness the Power of Habits: Program Yourself to Exercise, Meditate, Eat Healthy, Feel More Grateful, Think More Positively, and More I attended a nutrition seminar furiously taking notes. 6 months later, I stumbled across those notes and remembered, "Oh yeah, I wanted to do that!" If that's ever happened to you, then you know the painful truth: knowing isn't enough. The most effective way to change your behavior is to transform it from a conscious act to an unconscious act. Learn a reliable method for changing a good intention into an automatic habit.
The Power of Generosity: 7 Habits That Will Transform Your Life Doing generosity wrong can leave you burned out, stressed out, broke, angry, or even sick. Discover the 5 components of Complete Generosity and the 7 generosity habits that will help you become healthy in body, mind, and spirit; have deep, meaningful relationships; experience more joy and less stress; and make a big, positive impact in your home, your work, and in the world.
7 Habits for a Great Night's Sleep Every Night. Lack of sleep is a public health epidemic! If you're getting less than 7 hours of sleep, you're at risk for a wide array of emotional and physical health problems ranging from anxiety to weight gain. Worst of all, it doubles your risk of death from all causes! But follow these 7 habits, and you'll be sleeping like a baby in no time.
Charitable Giving Topics include…
Celebrity Charities: The Good, the Bad, and the Ugly. How to can you choose a good celebrity charity and avoid the disasters! Read More…
Veterans Day: Can you spot the fake veterans charity? Do you want to donate to Paralyzed Veterans of America or American Paralyzed Veterans? One is a Congressionally chartered charity and one was founded just to rip you off. Find out what to look for in choosing a great Veterans charity! Read More…
Holiday Giving: Help your audience navigate the most common holiday giving situations! Topics include giving with kids, what to give your food bank instead of food, and what to do when Christmas is over. Read More…
Disaster Donations: Will your donation during a natural disaster help or make things worse? 4 questions you must ask before you donate. Read More…
Charity Runs and Walks: Every year tens of millions of Americans ask friends to sponsor them in events ranging from 3-mile "fun runs" to 100-mile bike treks. When should you donate? When shouldn't you? And how do you say no??? Read More…

For a full media kit or to schedule an interview, please contact me.
T.V.
"Sharon can come back any time she wants. She's always informative and brings props!" Jack Lamson, WPDE Good Morning Carolinas.
Sound the Alarm with the Red Cross
Talking about her book on WGN 9 in Chicago
Holiday Donations
Good Morning, VA CBS 6 in Richmond, VA

First Coast News NBC 12 in Jacksonville, FL

ABC New 4 in Charleston, SC
Good Day Orlando Fox 35 New 4 in Orlando, FL
Good Morning Carolinas in Myrtle Beach, SC

Veteran Charities
Colorado and Company in Denver, CO
A word of warning about uniforms and cash donations jars and 4 questions you should ask before you donate.

First Coast News NBC 12 in Jacksonville, FL
A little bit of fun and a lot of great information in Jacksonville with the lovely ladies of The Chat.

CBS 46 in Atlanta!
News Channel 15 in Myrtle Beach, SC
Good Morning Carolinas said it was the most informative segment they've had on their show. Now they know how to spot a fake veterans charity!
ABC New 4 in Charleston, SC
I love visiting Charleston and the friendly folks at Low Country Live! We talked about how donation teams can help you make better donations in a fraction of the time.

Celebrity Charities
ABC New 4 in Charleston, SC
Great visit with the folks at Low Country Live in Charleston, NC.
Veterans Day
Enjoyed spending time at KRQE in Albuquerque, NM!
Charity Races
'Tis the season— not for Christmas carols, but for marathons and bike-athons and walk-athons in the name of a good cause. Every year tens of millions of Americans ask friends to sponsor them in events ranging from 3-mile "fun runs" to 100-mile bike treks, so it's very likely that a well meaning family, friend, co-worker, or boss will be asking you to support them and their favorite charity this season. Here, I talk with Good Morning Carolina and share some advice on when to give money, when not to, and how to say no.
Radio & Podcasts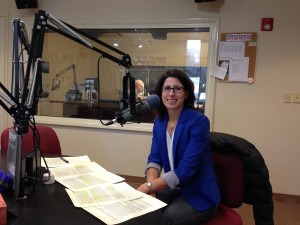 Need a last minute guest?
Call me for an interesting and inspiring segment. Great for financial, news, variety, or morning shows.
Ask me for Sample Interview questions on any topic you want to know more about: The Generosity Dilemma, Veterans Charities, Charity Runs, Holiday Giving, or let's design a topic customized for you!
Sharon gave us a great radio show. The information she shared was engaging, useful, and inspired our listeners to call in with their own questions about giving. She did a great job of interacting with callers, and we would absolutely have her back on our show. President Hal, Producer for Joe Formicola.
Below are a sample of recent interviews.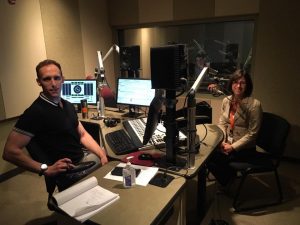 I'm a public radio uber fan, so I was excited and honored to join Ryan Warner on Colorado Public Radio for the Colorado Matters show. Listen in here: "Hurricane Harvey: How 'Change Gangs' Make Small Donations Go Further"
I enjoyed my conversation with Dinesh on his show, "The One Who Does." He hosts an inspirational show focused on people who don't just talk about making the world a better place, but are actually doing it. We talked about giving circles and generosity. Check it out: http://onewhodoes.com/002-sharon-lipinski-and-the-7-generosity-habits/
A long conversation where we delve deep into the power of habits: Willpower Techniques To Achieve Health Goals With Ashley James of Learn True Health
Thinking Less is the Key to Success with Slacker Ambition
Joe Formicola
Afternoon Drive on WTCM Radio
Mike McConnell
Tracy and Eddie
Print
These 7 Habits will Make You a Better Conscious Leader in Conscious Company
Loveland author Sharon Lipinski makes change a habit, Reporter Herald
Holiday Giving Survival Guide Christmas in Berthoud Surveyor